Buying your starter home was a major accomplishment. When you purchased your first home, it signified the beginning of a new chapter in your life. You fell in love with your home. Yet, as time went on, your needs changed. Your family grew and evolved, whether you got married, had children, or even introduced more pets into your home, and your home has not grown with you. If your home feels crowded and cramped or clutter is a struggle, you probably have outgrown your home. Once that happens, finding more space is your highest priority. This trend is known as upsizing. So what is upsizing, and how can you benefit from it? Upsizing is remodeling your existing home or purchasing a bigger home to create more living space for you and your family. Is upsizing right for you? Here are five tips to help you figure out how to upsize with ease.
Prioritize your needs
Upsizing your home is so much more than just buying a bigger home. The purpose of upsizing is to ensure you have the space requirements that make your home more comfortable and practical. Beyond adding square footage to your home, what do you really need? Do you need more bedrooms or bathrooms? Do you need a home office? You might potentially need to upsize your yard if you have kids and pets who want to play outside.
Regardless of your space requirements, prioritizing your needs is an essential first step when upsizing your home. Fully understanding what you need will help you determine the next course of action: buying a bigger home or remodeling your existing home.
Figure out what size you need your space to be

When it comes to upsizing your home, there is no one-size-fits-all approach. Everyone has different space needs. If you need more space for your in-laws to move in with you, chances are you will need enough space to include another primary bedroom with an en suite. If you need more entertainment space, then chances are you need a home theater or a media room. In some cases, you may need a space that is multipurpose. This is especially true if you need a dual-purpose property that works as a residential and commercial space, such as a dance studio or a catering company.
Yet, when many people need more space in their homes, it can be easier to assume bigger is always better. That is not true. Purchasing more space than you need can lead to many issues, including paying more than you can afford or having excessive space you have no idea what to do with. This can lead to additional clutter down the line since you feel the need to fill that empty space. By determining how much space you really need, you can make your new space more purposeful.
Decide if you need to remodel or move
Once you have determined upsizing is the right decision, the next question you need to ask yourself is this: how do I get more space? When this happens, you need to figure out whether it is time for you to move or if you can meet your new space requirements through a remodel. The decision to remodel or purchase a new home is not an easy choice to make. There are many factors you need to take into consideration, including your financial situation, your space needs, your current property layout, your potential ROI, and more.
If you are considering remodeling your home, determine where there is room for expansion. Do you have an unfinished attic or basement? Do you have extra room to build an addition to your home? Could you convert two small bedrooms into a functional bedroom and en suite? Converting your existing space can create a significant impact on your home. Once you have decided to remodel, talk to local contractors and get bids. Depending on the scale of your project, remodeling your home can be very expensive, especially if you plan on building an addition onto your current property. Figure out which option is right for you before moving forward.
Pay attention to the layout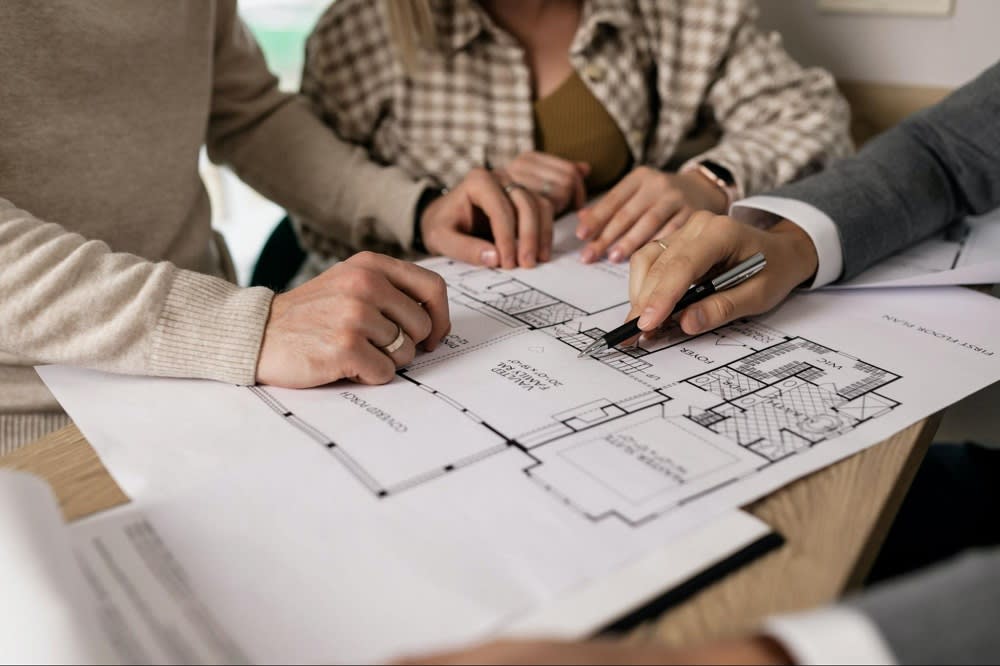 Whether you purchase a new home or remodel your current home, space isn't the only thing you need to consider when upsizing your home. The property's layout is more important than space. Why is layout so important in upsizing? A property's layout influences how the home flows. If your home is choppy and closed off, there is more wasted space, which can lead to clutter and disorganization within the home. This is true even when you are purchasing a bigger home. A 2,000-square-foot property with an open floorplan is more practical than a 2,500-square-foot house with a choppy, closed floorplan with unusable space.
The layout is also important in relation to your space requirements. If, for example, you need a chef's kitchen because you are opening up a bakery from home, you will need a spacious kitchen with plenty of prep space and room for storage and appliances. A butler's pantry and functional cabinets are paramount in this situation. If you are looking for a property with two primary suites, having at least one suite on the main level is crucial, especially if anyone in your family is experiencing mobility issues. While space is important, so is the layout.
Hire a local expert
If you have decided the best way to upsize your home is to purchase a new home, then it is time to put your current home on the market and begin your house hunt. It is essential to hire an
Edina real estate agent
during this stage. When choosing a real estate agent, there are two main methods: work with someone they already know or hire a new real estate agent. If you have lived in the Twin Cities for an extended period of time, then chances are you might know a real estate agent. This could be a friend, a family member, or a neighbor. In other cases, however, you might not have a real estate agent in your inner circle. When that happens, it is essential to hire a local expert.
Ideally, your local real estate expert should have extensive experience working in your current neighborhood and be well-versed in current market trends throughout the Twin Cities. Above all else, ensure you are working with an agent you feel comfortable with. Your real estate agent could make or break your upsizing experience.
Are you ready to upsize? Whether you are searching for
Edina luxury home
s or Eden Prairie estates, trust
Steve Schmitz
to help you find the luxury home of your dreams. With over 30+ years of industry experience on his side, Steve is your trusted resource in Twin Cities luxury real estate.
Contact Steve
today to begin your house hunt.